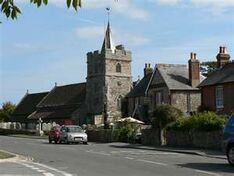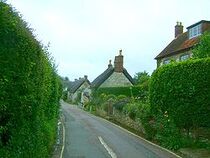 Brighstone is a bustling village and civil parish in the heart of the
Back of the Wight
. It is 7 miles from
Newport
and is the largest settlement in the area. Brighstone was previously known as "Brixton". The name derives from the Saxon name "Ecgbert's Tun" and alternated several times
Brighstone was first recordedly settled by romans who built a villa at Rock to take advantage of the clean water flowing in the Buddle Brook.The village has grown up around the stream ever since.
In Norman times the magnificant church was built and several manors established, these have become farms and houses.
Brighstone parish was formed in 1644. The civil parish comprises the main village of Brighstone together with the smaller villages of Brook, Hulverstone, Limerstone and Mottistone. The entire parish lies within an area of the Isle of Wight AONB and its coastline is Heritage Coast and an SSSI.
By the 18th century a lot of the villages revenue came from two sea activitys, smuggling and shipwrecks. After a few notable incidents, the policy of people first, then pinch the cargo was established and Brighstone Lifeboat took part in many famous rescues.[1]
In the victorian era the village was a self contained community and kept much of the rural charm.
Much of the village history is safely kept by the National Trust at Brighstone Museum.
The local pub is called the Three Bishops after three notable vicars who served at Brighstone before becoming bishops. Bishop Ken who wrote the famous hymns "Awake my soul and with the sun" and "Glory to Thee my God this night", Bishop Samuel Wilberforce who used to entertain his father, William Wilberforce, famous for his anti-slavery campaign, The third bishop, Doctor Moberley, was headmaster of Winchester College before changing career.
Wilberforce's name has been used for many developments incuding the Wilberforce Hall and Wilberforce Road.
With it's thatched cottages and rural charm Brighstone is a fantastic and very popular place to visit and caters well for tourists. There are many events to attend including the Brighstone Show and the ever popular Brighstone Christmas Tree Festival. Local attractions include; Brighstone Museum, the village shop, Brighstone Libary, Brighstone Rec, Grange Chine and Brighstone Down.
The scout hut also operates in the summer as Brighstone Youth Hostel.
References
Edit