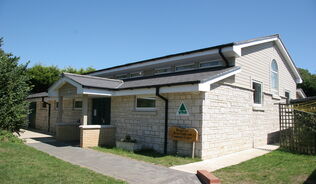 Brighstone
Scout Hut and Community building is one of the most up to date and modern facilities in the
Back of the Wight
.
After meeting in several different venues over the years the scouts ordered a replacement Scout Hut and Community Building which was required for the local Brighstone community to be used in co-operation with the Wilberforce Hall.
The purpose of the building was to accommodate the needs of the local Scout Group, Guide Group and other local community group's usage, however, the 'standard' Scout Hut building layout design also had to make provision for Youth Hostel accommodation for part of the year. This required the addition of sleeping accommodation in the form of dormitarys, washing/changing facilities and showers, an extended kitchen and a laundry room. The facility also had to cater for various indoor sports.
All summer this building is open to visitors and offeres a conveniate accomidation in a popular village.