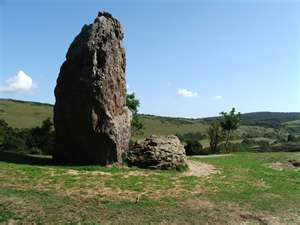 The Longstone at
Mottistone
, is the only megalithic monument on the Island. It looks out from
Mottistone Down
to the sea
Geography
Edit
The Longstone consists of two pieces of local greensandstone probably from a vein 100m away. The larger stands at 3.9m (13 feet) and the smaller lies at its foot. They are on the edge of a wood in small fenced enclosure just off Strawberry Lane.The stones and the surrounding land are in the care of the National Trustand are open to the public.
Until the mid nineteenth century the smaller stone was further south but in 1856 a local landowner, Lord Dillon, had it turned over to discover if it had a mortice hole (it did not). Its present position has led to fanciful tales of its being a sacrificial altar stone and, in common with many other megalithic monuments, modern pagan meetings and rituals are associated with it.

These are well worth a visit and for children are deeply climbable.