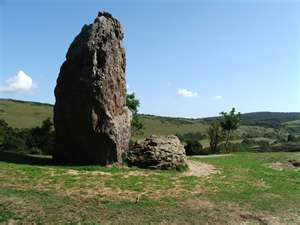 Mottistone (speaker's or pleader's stone) is a small hamlet located west of
Brighstone
in the
Back of the Wight
.8 Miles southwest of
Newport
.
The site of Mottistone has been occupied since pre-historic times, early settlers raised the Island's only megalithic monument, the Longstone nearby. In Norman times Mottistone Manor was built and has stood over the hamlet ever since. It is run by the National Trust and is very popular to visit.
Geography
Edit
Mottistone Down is a SSSI north of Mottistone, and covering 31.4 hectares, it ajoins the Brighstone Down, the central part of the ridge. Most of the area is owned by the National Trust and is biologically important due to its chalk and neutral grasslands. The National Trust's Island HQ is located nearby and it owns the cottages near the church.
St Peter & St Paul's (Mottistone Church) is one of the venues for the annual Brighstone Christmas Tree Festival, a popular tourist attraction and wonderful to look at with many participants entering their tree.