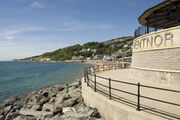 ventnor is a small seaside/ country town
There is a small ring of shops on a one way system by the sea front. This ring includes summerfeild, boots and lloyds pharmacy.
places of interest
Edit
my first place of interest is the botanical gardens. This place is a haven for the wildlife and is kept by voulenteers. This could be a great day for all the family for there is a cafe with wheel chair access,a short walk from said cafe there is a park for the kids and adults that have still yet to grow up and close by there is a lovely private beach that isnt at all private apart from above high tide lines (seaweed line).
ventnor sea front is a wonderful place to sit and relax. With all the cafes and pubs you can sit back and relax with a cool pint of beer orin the winter a warm cup of hot chocolate.
the train used to come down this way via wroxall in victorian times but they closed it due to cuts for the government