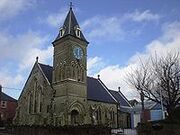 Wroxall is a small village off the back end of Ventnor. It is situated in the center east of the Isle of Wight between Godshill, Shanklin and Ventnor.
places of interest
In Wroxall there are two places of interest. The first being appuldurcombe House and the second, possibly less know of is the Haunted Gates to the right of said house. These gates are a public pathway to Godshill and is about an mile or 2 long walk. It is popular for tourists to visit, often those visiting The Wight Rivera.
History
Previusly the eastern railway to Ventnor, run via Wroxall and was popular for Victorian tourists on their way to the beaches. However with the Beaching Cuts the line was sadly closed.
Churchs
In Wroxall there are 2 churchs, St. Johns Church of England(in picture) and a methodist church located down the road from the CofE church.
Walks
You can get to all the surrounding villages via many different walks around Wroxall. If you go to your local tourist information center then im sure they'll have information on walks like the sunshine trail which goes straight through Wroxall, around Shanklin, Lake and Sandown back through Godshill and at Wroxall again.
Campsites
They are 2 campsites in Wroxall that I know of there is the appuldurcombe camsite and another small one on Rew Lane
Bus routes
The only bus route that goes through wroxall at this moment in time is the number 3 from newport to ryde
Local facilities
The local facilites are; the spar on west street and the Post Office on West Street.